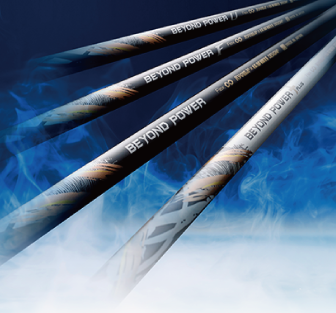 The "ultra-high rebound shaft" applies the whip-recoil effect.Head speed upped by 1.2 m/s!

By moving from hand to tip,
the flexure accelerates head speed.
This one club can handle every kind of
timing up to HS 30m/s to HS 50m/s.
BEYOND POWER

Flex ∞ (infinity) can handle every kind of swing. As the flexure moves in stages from hand to tip, the head accelerates until just before the impact. It accommodates every golfer by virtue of automatic impact, making it easy to hit the core. The golfer will achieve unprecedented flight distance of "almost impossible initial velocity," which will transcend the golfer's own potential.

BEYOND POWER + PLUS

ts sensation of speed BEYOND POWER is always there; it has been further improved and hooks have become controlled. It won't fly up uncontrollably even if hit hard, it will guide naturally to a full swing. It is a dramatic shaft that will achieve both overwhelming distance and scoring for the top amateur to the average golfer who do not like long shafts.