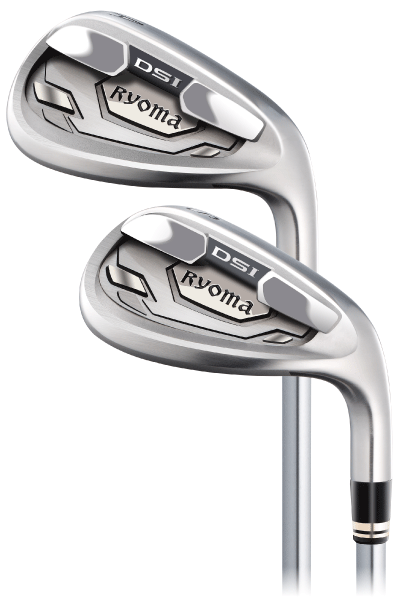 Wedges
Conforming to R&A and USGA rules on SLE
Easy to hit a high-spin wedge shot that stops the ball on a dime
RYOMA Iron Wedges are all you need to hit good approach shots, sand shots, and lob shots. They combine great functionalities with exceptional high-spin performance to help you improve your score performance on the course.

The narrow primary sole of a RYOMA Iron Wedge makes it easy to hit a ball clean with a quick swing-through from a good lie, such as on the fairway. When a ball is given a fat shot or hit out of a sand trap on the fairway, the supplemental Assist Sole behind the primary sole kicks in, making an oversize wide sole and preventing the head from plunging too deeply into the turf or sand. As the oversize sole works to suppress excessive head turn and reduce the loss of flying distance, you can minimize the chance of missing shots and improve your score performance on the course. You can confidently and effortlessly hit a fat shot with the club face open to get the ball out of a sand trap.
Using computer-controlled laser machining technology, the surface of the club face is equalized, and groove lines are engraved with precision, which, combined with a milled finish on the surface, give the head exceptional back-spin performance.
TourAD RYOMA Iron Wedge |Standard Shaft


Shaft specially designed for the RYOMA Iron WedgeThis shaft is made slightly heavier than the TourAD shaft for the RYOMA Iron to make it easier to hit a good approach shot. As you swing, the shaft bends progressively from the grip to the middle and to the tip so that you can feel the position of the head throughout the swing, giving you more confidence and greater control—whether in a delicate approach shot or in a full-swing shot.
BEYOND POWER Iron Wedge


Whip-like effect benefits players of any skill levelDuring the swing, the whip-like effect that the BEYOND POWER shaft generates travels progressively from the grip to the middle and to the tip, adding 1.2 m/s more to the head speed, all through impact. This revolutionary shaft provides infinite flex regardless of head speed, which benefits golfers of any skill level—from average performers to top amateur players.