Ladies Driver
Conforming to R&A and USGA rules on SLE


High-performing yet forgiving driver
Delivers a 10- to 15-yard longer distance than conventional ladies drivers
This high- performing driver is designed for female golfers who look to improve their scores on the course. RYOMA's proprietary DSI technology, which delivers both superb forgiveness and distance, makes it possible to hit a ball with higher initial speed of up to 1.5 m/s, reduces the ball's backspin rate by up to 800 rpm, and provides a 3.1-times larger sweet area—all compared with conventional ladies drivers. The MAXIMA TYPE D ladies driver offers a longer ball distance and greater control of direction than most other ladies drivers. The combination of a club head with advanced design and a shaft with a stiffer bending profile makes it easier to hit a ball accurately and refrains it from slicing. This results in longer carry and roll distances, which provides an advantage for golfers on the second shot.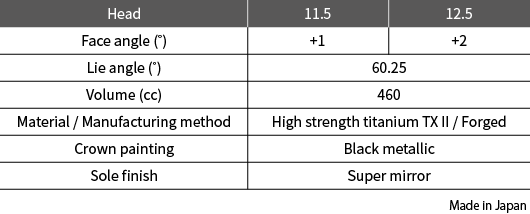 TourAD M2-D 44 .5-inch |standard shaft


Form sharp and
strong trajectoryThis flagship shaft is designed to provide a greater chance of hitting the ball dead center with a higher velocity. It makes it easier to hit the ball accurately and keep it from slicing. This all-round shaft ensures consistent performance for golfers of any swing type.