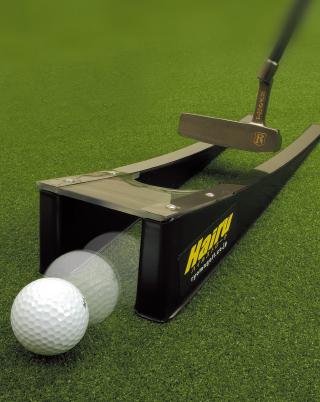 Acquiring the natural stroke
Using the "hairu" stroke, one will naturally acquire the habit, without forcing the issue, strongly, the "pendulum stroke" as practiced by most professionals.
One's usual stroke gets guided to become the "hairu" stroke, which increases cup-in probability.


If one's stroke is correct then the face side will get
maintained in the square, and furthermore, the ball
will roll with the correct spin.
The putting stroke is based on the pendulum swing stroke as practiced by professional golfers. However, most amateur golfer use a horizontal stroke of the head crawling on the ground, which is the result of the mistaken idea that "hitting the head square onto the ball = moving the head horizontally relative the ground."
That kind of stroke makes square maintenance of the face difficult, and furthermore, because the impact would be that of the head pushing the ball, the resistance of the grass will hinder the rolling of the ball.