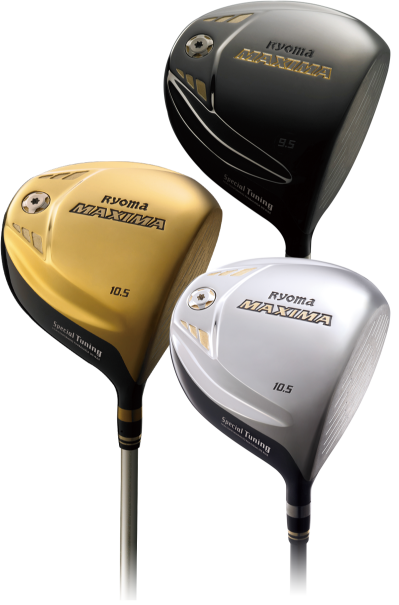 Driver
【High COR】
Non-conforming to R&A and USGA rules on SLE


Enhanced MAXIMA driver with an ultra-resilient club face and body
Delivers a distance of up to 20 yards longer than conventional drivers
An incomparable clubhead with ultra-high initial speed is born. In addition to RYOMA MAXIMA's exclusive strengths of delivering an ultra-low spin ball with a long roll and limited trajectory curvature, the clubface and the clubhead are tuned thoroughly. The sweat area is increased by 30% comparing to the previous models *1. Furthermore, the average initial speed is increased by 2.7m/s. The newly designed "low-spin unit" placed inside the clubhead reduces spins to the minimum. Meanwhile, comparing to conventional non-conforming drivers, Ryoma's patented technology makes it possible to offer a high-COR driver with relatively silent hitting sound (Patented). This driver offers a perfect balance in all aspects.
・The MAXIMA Special Tuning driver, whose club face has a COR that exceeds the limit established under the R&A and USGA rules, is not allowed for use in any official golf tournament. ・When using the MAXIMA Special Tuning driver on a course, Please keep the distance to the preceding party 20 yards or more than usual so as to avoid disrupting their play.  ・As the MAXIMA Special Tuning driver has an extremely thin club face, keep the head speed at 44 m/s or below at ball impact. ・The warranty covers repairs to the club only when it is used at a head speed of 44 m/s or below; it does not cover repairs when it is used at a head speed of more than 44 m/s.
TourAD M2-D 45.25-inch shaft


Form a sharp and
strong trajectoryThis flagship shaft is designed to provide a greater chance of hitting the ball dead center with a higher velocity. It makes it easier to hit the ball accurately and keep it from slicing. This all-round shaft ensures consistent performance for golfers of any swing type.
TourAD M2-G 46.5-inch shaft


Incredibly easy-to-swing
longer shaftThis is a specially designed 46.5-inch shaft. The driver with this longer shaft is as easy to swing as one with a conventional 45-inch shaft. With this shaft, the player does not have to worry about adjusting the timing of impact and can achieve a consistent long-distance performance.
BEYOND POWER 46.5-inch shaft


Whip-like effect for
greater distanceThe BEYOND POWER shaft provides infinite flex that benefits golfers of any swing type. During a swing, the whip-like effect travels progressively from the grip to the tip, giving an accelerated speed to the head while eliminating awkwardness associated with swinging a longer shaft. This shaft enables golfers to hit longer-distance shots beyond their potential.
BEYOND POWER + PLUS 46-inch shaft


Designed for advanced
amateur golfersThis shaft is a refined version of the BEYOND POWER shaft, combining the original's characteristic that contributes to an increased head speed with an enhancement made to prevent a ball from traveling left. With this shaft, even a hard hit is unlikely to cause the ball to balloon. It is a revolutionary shaft that benefits both average golfers who are not used to a longer shaft and top amateurs in achieving a longer distance and improving their scores.